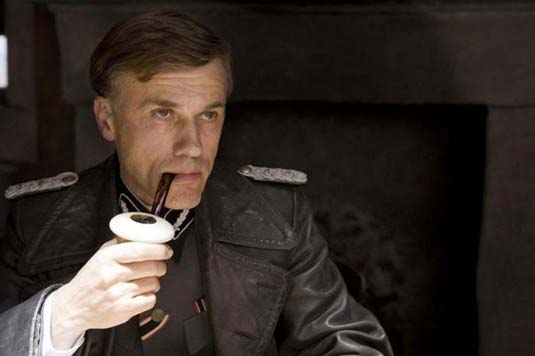 Yes who would have guessed that the next
role for Christoph Waltz, who played Quentin Tarantino's bad guy in Inglorious Basterds, would be a villain. IGN are running a story from Deadline Daily Hollywood that the marvelous Waltz, who was easily the standout performer in Basterds and should be nominated for an Oscar for his performance, has just signed on to play the villain in the crime caper the Green Hornet. To those of you that don't know the Green Hornet is a journalist by day and with his chauffeur Kato a crime fighter by night. Bruce Lee famously played Kato in a Green Hornet TV Show. He will star along such names as Seth Rogen, Cameron Diaz and Edward James Olmos as the bad guy "Chudnofsky".


It seems that Waltz's stellar performance in Inglorious Basterds has put him in the spotlight for Hollywood execs but I think this is the best possible move he could have made. Hornet is going to be a bit more light hearted affair and given the range of acting we saw in Basterds Waltz should be able to handle the comedic moments with a plumb whilst occasionally uping up the sinister to still show he is a bad guy. Considering they wanted Nicolas Cage for the bad guy at one stage I think Waltz is a much better choice, I mean when has Cage ever been bad in a film? He'd just been some obsurd, fast talking, quirky guy with another bizarro haircut and we would all be laughing at him for the wrong reasons. Waltz is a great choice and I am now 100% more interested in this film than I was before, bring on December 17 2010.